At CoxEsq, PC we specialize in US immigration law, providing comprehensive legal services to clients. Led by attorney David Cox, we have proudly been serving immigration clients in Missouri and nationwide since 2001. We have successfully represented a diverse range of clients, including businesses and individuals, in various US immigration law matters and non-immigrant US visa cases.
Our expertise extends to business visa matters, where we have assisted investors, intra-company transferees, individuals seeking green cards, those in specialty occupations, and individuals with extraordinary ability or achievement.
In addition to business visa services, David Cox is a highly skilled US immigration attorney who can guide you through family-based immigration law matters. Whether you need assistance with obtaining permanent resident status, green cards, naturalization, asylum, consular processing, or any other immigration law or travel visa matters, we are here to provide expert advice and representation.
Trust our experienced team to navigate the complexities of US immigration law and help you achieve your immigration goals.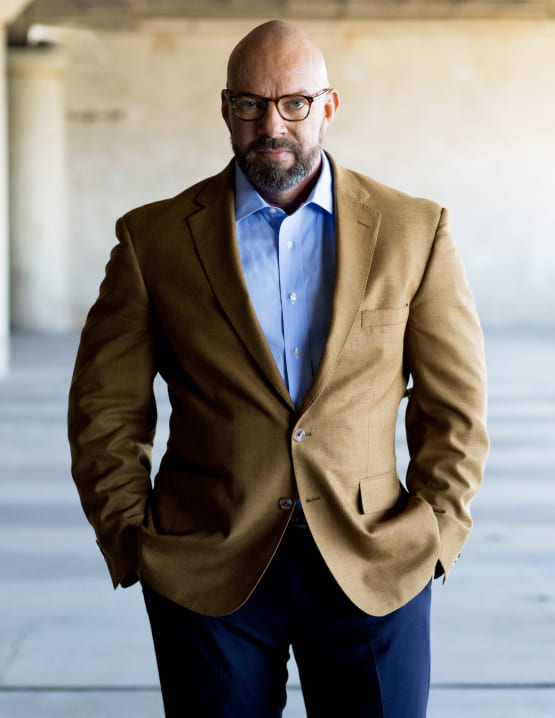 Attorney/Owner
Meet David Cox
With over three decades of law experience, attorney David Cox has been dedicated to practicing immigration law since the early 2000's. His extensive background in government service, the private sector, and as a business executive provides him with a unique perspective to address your legal issues effectively.
David Cox's expertise extends to various legal jurisdictions. He is admitted to practice before esteemed institutions such as the United States Supreme Court, the Court of Appeals for the Armed Forces, the United States District Courts for the Northern District of Georgia and the Eastern District of Missouri. Additionally, he is a member of the state bars of Utah, Georgia, and Missouri, showcasing his commitment to legal excellence.
As a testament to his professional affiliations, David Cox is an esteemed member of the American Bar Association, the Bar Association of Metropolitan St. Louis, and the American Immigration Lawyers Association. These memberships reflect his dedication to staying updated with the latest legal developments and maintaining high standards of practice.
Trust attorney David Cox to provide you with exceptional legal representation and a comprehensive understanding of immigration law.

Testimonials
What Clients Are Saying About CoxEsq, PC
I hired CoxEsq to help me become a US citizen despite a couple of, ahem, blemishes on my record. I am very satisfied with their services because I have received accurate advice that had my interests at heart, good communication, reasonable fees, and successful outcome. But especially -ESPECIALLY- what I appreciate about David Cox is the treatment that you get as a foreigner and a client. None of the condescension that immigration attorneys often inflict on us foreigners in precarious situations. I highly recommend CoxEsq.

Very professional lawyer and pays attention to every detail. We have used him twice already and both cases went extremely smoothly. Prices are reasonable too. Highly recommend him.

The best Immigration attorney in town. David is highly professional, very knowledgeable and very responsive. Always answers calls and replies to emails. He kept me informed throughout the process and I am very satisfied after hiring him.

David and his associates were a pleasure to work with. For my particular case I talked to many different lawyers and David stood out to me because he was very straight forward with me and did not try to make things sound more complicated than they were. He clearly has many, many years of experience dealing with immigration and he gave me and my wife such peace of mind. Very professional, easy to communicate with and also charges very fairly. We are both extremely happy that we chose CoxEsq. If you are seeking an immigration attorney I would highly recommend contacting David and his team. Thank you David, we are very grateful for your help!

Mr David work is excellent,their office make sure that paper work for immigration purpose is complete and suffcient.They filed my green card application and if we have any doubt they always reply through mail or phone. I appreciate his work which he help us to file my green card application.

David was so great! He's a very experienced lawyer & knows what he's doing. His team helped us with our green card case and was available every step of the way. He also came with us to the interview! I would 100% recommend him. My husband & I are extremely happy and grateful we chose CoxEq. Thank you for helping us start this new chapter!

Thank you very much ! ,he treats you with kind and respect , always ready to answer to you. He's the best! Gaby.

Im from Spain and I married a US Citizen. First, when we reach out to him we thought that we needed to do a K1 visa (fiancé visa) but David show us a faster way to get my Green Card. I just got approved and all the process was simple and with no problems thanks to David.

Mr Cox was very professional, understanding and quick to answer all our questions. Very polite, informative and knowledgeable. He walked us through my wife's green card application from start to finish and we couldn't be more pleased. I would highly recommend Mr Cox to anyone.